Sasha Shirobokova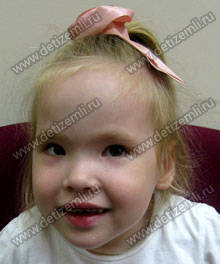 Age, from: 4 years, Kirov
Diagnosis: spastic tetraparesis
From her mother's letter: The girl can't crawl or walk. I am unable to work because my daughter needs constant attention. She regularly (twice a year) receives treatment at a children's hospital in the city of Kirov, but the results of the treatment (physiotherapy, massage) are practically nonexistent. We are currently undergoing the second course of microcurrent reflexotherapy in LLC «reatsentr Izhevsk».
In the course of treatment the child became more active, there were attempts to crawl independently. We paid for two courses of treatment ourselves but in the third year, we are asking for help with paying for treatment. The cost of treatment is 50,800 rubles. Help a sick child!
Incoming donations
11.10.2017 — онлайн казино Goldfishka.me , 150$

Documents
News
04.10.2017
Charitable Foundation for children «Children of Earth» asks to provide assistance to a child disabled since childhood. Treatment cost is 50,800 rubles. Help Sasha overcome his disease!