Kolya Shoman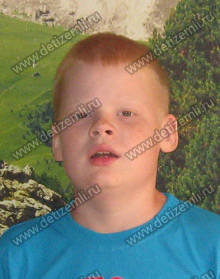 Diagnosis: encephalopathy
From birth Kolya has been under observation of neurologists. His parents followed all doctors' orders. He received massage since he was four months old because he had increased tone in his arm and leg muscles. But unfortunately his development was very slow. At 4 years 4 months he went to kindergarten (remedial group). Then it was recommended that a disability certificate is issued for the boy (disabled child since December 2006 with a diagnosis of delayed speech development, residual organic brain damage). Kolya currently requires treatment in a clinic (value 70,000 rubles). Help your child!
Incoming donations
22.12.2014 — Дмитрий Коромыслов, 3000р
17.12.2014 — Мелконова Татьяна , 500 евро
22.11.2014 — Мелконова Татьяна , 450 евро
07.11.2014 — Marchenko Larisa , 1500р
15.10.2014 — Интернет лотереи 2LOTO.com, 200$
26.09.2014 — Пуховая Татьяна , 1000р
17.09.2014 — Онлайн казино GoldfishkaCasino.com, 300$

Documents
News
23.12.2014
Charitable Fund «Children of Earth» has finished raising funds for Kolya. The funds are collected. The child will now receive his treatment. Thank you all!
15.09.2014
Charitable Foundation for children «Children of Earth» begins collecting donations for the treatment of Kolya Shoman. We need to collect 70,000 rubles. Help a sick child!