Vika Smirnova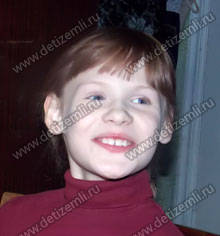 Age, from: 9 years old, Saint-Petersburg
Vika has a mild form of infantile autism. The girl needs expert help, without which her form of autism may develop into a more severe one and the child will completely cease to communicate with the outside world. Vicky's family lives a modest life and has run out of money to treat the child. Vika needs to undergo treatment in Samara «Reatsentr» which costs 34,150 rubles. Please help the girl beat the disease!
Help rendered
Paid 34,150 rubles for treatment.
Incoming donations
15.11.2013 — ИП Иванов П.М., 500р
25.08.2013 — Смирнов В.Е., 33000р
01.08.2013 — Кузьменко Михаил, 1000р

Documents
News
30.08.2013
Moscow Foundation for sick children, «Children of Earth» closes the collection of donations to pay for treatment of Vika Smirnova. The necessary funds are now collected. Thank you all!
04.07.2013
Our fund starts collecting charitable donations for the treatment of Vika Smirnova from St. Petersburg. Vika has autism, she needs professional help so her autism does not progress. Is in our power to help Vika Smirnova!