Sasha Surkov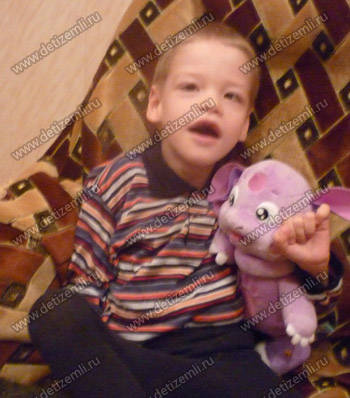 Diagnosis: spastic tetraparesis
Sasha was born prematurely and suffered brain hemorrhage during birth. The boy was immediately transferred to intensive care and hooked to a respirator. Now Sasha lives - it's a constant struggle for life. He is being raised and treated by a single mother. The boy urgently needs a wheelchair worth 25,790 rubles. Help Sasha to live with dignity and be mobile!
Help rendered
Purchased wheelchair 25,790 rubles
Incoming donations
17.01.2012 — Аверьянов И.А., 20000р
17.01.2012 — EVGENIY GRACHEV ( Assist ), 5000р
16.01.2012 — webmoney ( Интернет лотерея 2LOTO.com ), 250$
14.01.2012 — Черенков П.Г., 7000р
06.01.2012 — Баранкевич Е.В., 500р
31.12.2011 — Maksim Filipenko ( Assist ), 500р
30.12.2011 — Потапова А.В., 669.54р

Documents
News
31.01.2012
Sasha's mother has sent us some pictures and kind words of gratitude:
Hello! Thank you sincerely foundation members and the people who helped raise money to purchase a wheelchair for my son. Today we bought one. Sasha is very pleased and comfortable in it. Thank you very much for your compassion and kindness. May God protect you!
19.01.2012
Charitable Foundation for Children, "Children of Earth" thanks all the donors who have helped Sasha. Wheelchair has been paid for and will be delivered as soon as possible to the sick child. Now Sasha will be able to move normally and get to know the world around him. We wish Sasha health and success!
29.12.2011
Charitable Foundation for Children "Children of the Earth" opens the collection of funds for the purchase of a wheelchair for a disabled child Sasha Surkov from Tambov. The boy is already 7 years old. A wheelchair that can be supplied free of charge by the state would not fit Sasha. We ask you to help the child live a normal life!