Anna Svintsova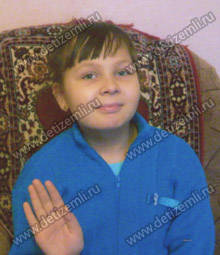 Age, from: 8 years old, Lipetsk
Diagnosis: cerebral palsy
Anna Svintsova suffers from cerebral palsy. She regularly takes courses of rehabilitation, but for exercising at home Anna needs a special treadmill for patients with cerebral palsy. It will help the girl recover faster. Help the child!
Help rendered
Paid 31,480 rubles for treadmill.
Incoming donations
30.03.2013 — Borisov Andrey ( Assist ), 5000р
30.03.2013 — ЗАО "БИСт", 5000р
27.03.2013 — ООО "ТД Металлопрокат", 5000р
23.03.2013 — Крикунова А.В., 500р
20.03.2013 — Еремина О.С., 1000р
20.03.2013 — Хаустова А.Ю., 200р
16.03.2013 — ЗАО "Липецкстальмеханизация", 5000р
11.03.2013 — Интернет лотереи 2LOTO.com, 200$
02.03.2013 — ООО "ПромСервис", 6000р
02.03.2013 — Комаров Александр, 5000р
02.03.2013 — Бакулина О.Д. , 3000р

Documents
News
01.04.2013
Charitable Foundation for Children «Children of Earth» has paid for the treadmill for a disabled child. Anna is now able to do rehabilitation exercise at home. We wish her ​​successful recovery.
25.02.2013
Anna is disabled since birth. The girl suffers from cerebral palsy and is being raised by a guardian. She requires regular courses of rehabilitation and specialized exercise at home. Anna is currently in need of a special Magic treadmill (cost 31,480 rubles). This treadmill will help speed up the recovery of the girl. Help the child!