Stepan Sychkin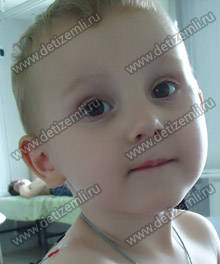 Diagnosis: spinal cord injury
Stepan's mom had a very difficult birth and the boy suffered birth trauma. The child ended up disabled and requires constant treatment and rehabilitation. Parents tried to finance treatments but unfortunately have completely exhausted their financial resources. With proper treatment the child has an excellent chance to recover but if he does not receive proper medical attention then Stepan will remain disabled for life. The sick child requires treatment in the clinic as a cost of 200 000 rubles. Need your help!
Help rendered
Collected 200,000 rubles for treatment.
Incoming donations
23.06.2016 — Смирнов В.Е., 185000р
14.06.2016 — webmoney онлайн казино Goldfishka.me, 150$
14.06.2016 — KAZANTSEV VLADIMIR , 2000р
13.06.2016 — П Наталья , 500р
11.06.2016 — Мамедова Виктория , 100р
09.06.2016 — Анжелика Ганбарг , 150р
23.05.2016 — KOROMYSLOV DMITRY , 1000р
19.05.2016 — Татьяна Холмогорова , 3550р
13.05.2016 — Кузин Александр , 10000р

Documents
News
27.06.2016
Charitable Foundation for children Children of Earth thanks our regular donor v. E. Smirnov who donated to two children including Stepan.
10.05.2016
Charitable Foundation for sick children «Children of Earth» asks for support in collecting donations to pay for treatment of a sick child. We need to collect 200,000 rubles. Stepan suffers from damage to his spinal cord but there are chances of recovery. He really needs your help!