Timur Taychinov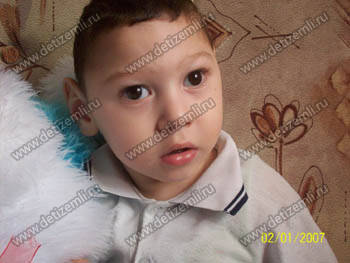 Age, from: 3 years, Bashkortostan
Diagnosis: microcephaly, optic atrophy
t Birth mom Timur were very heavy. Already in the hospital by his mother noticed that the child that something is wrong. He shuddered strongly and constantly crying. On the ninth day the baby was discharged home, where almost immediately he got a big temperature. Since then, the family of Timur the past three years has been fighting for the life of the child. Now the boy urgently needs to undergo treatment in Reatsentr (Samara) priced 26,250 rubles. Help your child!
Help rendered
Financed treatment in Samara, cost 26,250 rubles
Documents
News
30.11.2010
t We have collected the funds necessary to pay for the treatment of Timur Taychinov in Reatsentr (Samara) at the cost of 26,250 rubles. We would like to thank everybody who made this possible.