Nikifor Trenkayev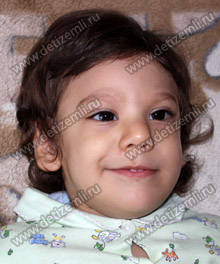 Age, from: 2, Tyumen region
As soon as Nikifor was born, the midwife told his mother that the volume of the head was one centimeter less than the volume of the chest. The mother later found out that this is a sign of a terrible disease. On the second day Nikifor was examined by a pediatrician who found that soft spot is already fully closed. At one month the neurologist reported that the volume of Nikifor's head has not increased a single millimeter since he was born. The child needs treatment in a clinic which costs 106,400 rubles. Help the child!
Help rendered
Collected 106,400 rubles for treatment.
Incoming donations
16.02.2015 — Смирнов В.Е., 100000р
06.02.2015 — webmoney, 3.88$
02.02.2015 — GoldfishkaCasino.com, 150$
16.01.2015 — Лапина Анастасия, 450р

Documents
News
18.02.2015
Moscow charitable Foundation for children «Children of Earth» finishes the collection of donations for Nikifor. The necessary funds are collected. Thank you all! Funds will be transferred this week.
07.01.2015
Charitable Foundation for children «Children of Earth» begins collecting donations for the treatment of Nikifor. The boy has microcephaly and needs treatment which costs 106,400 rubles. Please respond and support a sick child!