Sasha Tretyakov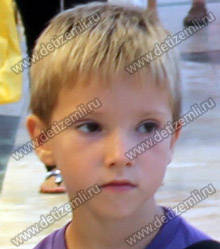 Age, from: 7, Novosibirsk region
Diagnosis: effects of meningitis
Sasha is the third child in the family, he has a brother and sister. The boy was born perfectly healthy, the family was happy. The trouble crept up unnoticed. At first his mother thought it was the flu. The child had a fever, began vomiting. Then, ambulance, resuscitation, coma, prolonged treatment. Child's life hung in the balance. Sasha is still suffering from the effects of this terrible disease. At the moment he needs to undergo treatment in Germany which costs 9830,31 Euros. For Sasha's parents this is an exorbitant amount, especially given the current exchange rates. Help the kid to overcome the disease!
Help rendered
Financed treatment for Sacha Tretyakov in Germany, 9,830.31 Euros
Incoming donations
31.03.2015 — Медицинские центры "МРТ Эксперт", 110721р
31.03.2015 — Анонимно, 155000р
24.03.2015 — Мелконова Татьяна , 900 евро
12.03.2015 — webmoney, 1.58$
10.03.2015 — Мелконова Татьяна , 400 евро
25.02.2015 — Alexey Pomazenkov, 100р
15.02.2015 — Владислав Стешенко, 1.88$
07.02.2015 — Шутова М.В., 1500р
04.02.2015 — Селиванов А.А., 100000р
04.02.2015 — Ануреев Д.В., 48500р
20.01.2015 — Шутова М.В., 1500р
13.01.2015 — Медицинские центры "МРТ Эксперт", 94950р
07.01.2015 — Светлана Уварова, 52р
06.01.2015 — GoldfishkaCasino.com, 300$
22.12.2014 — Дмитрий Коромыслов , 3000р
13.12.2014 — Феронова Наталья , 10000р

Documents
News
03.04.2015
Sasha Tretyakov has meningitis. The boy urgently needs to undergo treatment in a German clinic. We are closing the fundraising, all the necessary funds have been collected. We wish Sasha quick recovery!
12.12.2014
Charitable Foundation for children «Children of Earth» begins collecting donations for the treatment of Sasha in Germany. The boy suffers from effects of meningitis. He needs medical treatment abroad, but due to currency exchange rates the trip to Germany is now under question. The child really needs your help! Please respond and help a sick child!