Dmitry Trubikhov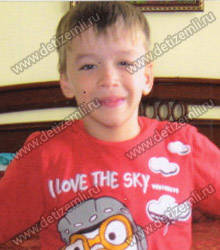 Age, from: 7 years old, Volgograd
Diagnosis: cerebral palsy
Dmitry is sick with a terrible disease from birth. Like all children suffering from cerebral palsy, Dmitry has difficulty with speech and walking. However his parents do not give up, struggling to make life easier for the child. Dmitry has already had a number of successful treatments which had a positive impact on the health of the boy. Dmitry now needs to undergo clinical treatment which costs 166,300 rubles. Please help the child!
Help rendered
Paid 166,300 rubles for treatment.
Incoming donations
26.03.2014 — Смирнов В.Е., 153000р
06.02.2014 — П. Ольга, 2500р
19.01.2014 — Темченко Е.В., 5000р
13.01.2014 — Гущина Оксана , 1000р
26.12.2013 — Макаров Евгений , 500р
04.12.2013 — Романова Е.Ю., 105р
17.10.2013 — Интернет-казино Goldfishka.com, 93.51$

Documents
News
27.03.2014
Today we paid for the treatment of Dima Trubikhov in the medical center «Sakura». The cost of treatment was 166,300 rubles. We heartily wish Dime successful treatment and speedy recovery. We also wish to thank all our donors who helped to collect donations for the treatment of the sick child.
08.10.2013
Moscow Foundation for sick children «Children of Earth» begins collecting charitable donations to pay for treatment of Dmitry Trubikhov. The cost of treatment is 166,300 rubles. This child needs our help and support!