Anisya Vasyutina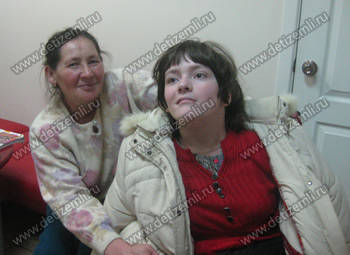 Diagnosis: leukodystrophy
Anisya was born with a congenital disease. She has had 4 courses of microcurrent acupuncture. As a result of treatment, Anisya is no longer salivating, is able to move her hands, pain and spontaneous movements have subsided, headaches decreased, she is now able to utter some meaningful words. Now that that her condition has improved, she is in need of more treatment. The girl requires treatment in Reatsentr worth 143,000 rubles. Help Anisya, give her a chance of a normal life!
Help rendered
Paid 143,000 rubles for treatment in Reatsentr
Incoming donations
10.01.2013 — Васильева Г.Б., 8000р
30.12.2012 — Вальдовский В.А., 75000р
24.11.2012 — ООО "ТехМаш", 9000р
23.11.2012 — webmoney ( НЕБЕСА ), 30р
19.09.2012 — Красноруцкий Б.О., 3000р
12.09.2012 — Васильева Г.Б., 10000р
22.08.2012 — Папышев А.В., 2000р
21.08.2012 — Евгений Грачев ( Assist ), 2000р
10.08.2012 — ALEXEY NEBOGA ( Assist ), 6000р
08.08.2012 — Интернет-казино Goldfishka.com, 250$

Documents
News
25.01.2013
Charitable Foundation for Children «Children of Earth» (Moscow, Russia) finishes collection of charitable donations for treatment of Anisya Vasyutina. Funds are raised, treatment is already paid for. Thank you very much for your help and support. After the course of treatment is complete we will report about the health of the girl.
24.12.2012
Dear friends! Anisa Vasyutina is ill with leukodystrophy. We are collecting 143,000 rubles for her treatment. The girl is suffering from her illness and needs urgent help. Unfortunately, collection of donations for Anisya is going slowly. We still need to collect about 100,000 rubles. Treatment has been scheduled in this year, but had to be carried over to the next year. We ask you to come forward and help the child!
07.08.2012
Charitable Foundation for Children "Children of Earth" begins to raise funds for medical treatment of Anisya in Reatsentr (Izhevsk) worth 143,000 rubles. The girl has cerebral palsy. She suffers from it since birth. We can give her a chance to be able to walk!