Jaroslav Strugov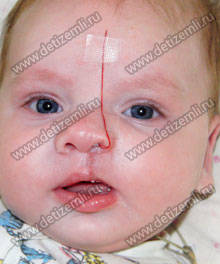 Diagnosis: congenital cleft lip
Jaroslav was born on 1 July 2016 with a congenital malformation: left-sided cleft lip, alveolar process, hard and soft palate. On 20 September 2016 Yaroslav (2.5 months old at the time) had his first surgery, cheilorhinoplasty. The surgery went well but the postoperative period has been difficult. Two more surgeries are scheduled: one on the soft palate in 6–7 months, another one on the hard palate in a year. We need help to raise funds for the next surgery, cost of the surgery is 154,600 rubles. Help a sick child!
Help rendered
Collected 154,600 rubles for treatment.
Incoming donations
30.11.2016 — Арцишевская Арина , 100р
25.11.2016 — Арефьев Владимир , 1000р
21.11.2016 — Барботько Сергей, 200р
19.11.2016 — Смирнов Виталий , 154600р
19.11.2016 — Носов Дмитрий , 100р

Documents
News
26.11.2016
The Children of Earth foundation finishes the collection of donations for Yaroslav. The required amount is collected. Thank you very much!
17.11.2016